Community Service Programs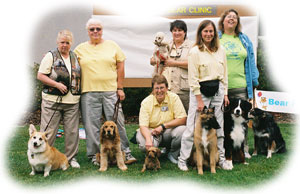 In addition to offering a wide range of obedience classes, the San Lorenzo Dog Training Club (SLDTC) is very active making a difference in the community. If you are interested in having one of these teams visit your facility, organization, or school, please contact us for more information.
Therapy Dog Team: Warm Hearts & Cold Noses

As volunteers, they visit individuals in nursing homes, hospitals, schools, and institutions in order to bring happiness and cheer.

Read about how our therapy dogs worked as comfort dogs at the Oakland warehouse fire.

Dog Dancing Team: Dog Gone Dancin'

These dog and handler teams perform dance-oriented footwork in time to music and are a delight to behold. They are available to perform in venues such as nursing homes, hospitals, and community service events.

Canine Ambassador Program

Canine Ambassadors are SLTDC members who make classroom presentations to children about responsible dog ownership, canine safety and a wealth of other topics.