Welcome!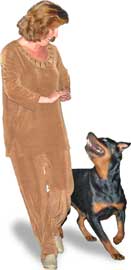 59th Trial - Oct 1, 2016
Our all-breed obedience and rally trial will be on Saturday October 1 at California State University East Bay. Entries close Wednesday September 14th.
Please note: New trial location. The trial will be at a different part of the CSU East Bay campus this year. As you go up Carlos Bee you will see a parking lot on the right side with an attendant's hut (Lot N). Turn into the parking lot. The trial will be at the field next to the parking lot, not at the site on Harder where agility trials were held.
The San Lorenzo Dog Training Club was founded in 1953, and has been teaching people to train their dogs ever since. Our experienced trainers offer a wide variety of obedience classes from puppy socialization and beginning manners through competition-level utility, as well as conformation, canine freestyle (dog dancing), and K9 nose work classes. We also hold an annual all-breed obedience and rally match in the spring, and an AKC-sanctioned obedience and rally trial in the fall, in addition to Member's Only Workshops throughout the year.
Teaching people to train their dogs since 1953.
Conveniently located in San Leandro just off the 880 freeway (near San Lorenzo, Hayward, and Castro Valley), our training facility is indoors, fully matted, and has a wall of mirrors. Please stop by and check us out!