Member Dogs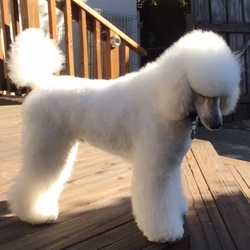 Call Name:

Tickle

Registered Name:

Janco Make Me Laugh

Titles Earned:

Breed:

Miniature Poodle

Gender:

Male

Birthday:

November 11, 2016

Owner:

Phyllis Gunhouse

Notes & Brags:

Oct 2019: Tickle got his CDX in three tries, with three 1st places and one HIT at the Del Valle KC show, with a great score of 199. On to Utility!
Aug 23, 2019: Tickle got his CD at the Mensona KC show on August 23, 2019, where he got his 3rd Novice B leg with a score of 196.5 and 2nd place.
Jul 2019: Tickle made his Novice debut at the Del Monte KC show in Carmel on Friday, July 12th and got 1st place with a great score of 199! And, he wound up High in Trial! He got another Novice leg on Sunday with a much lower score of 192.5, but it was still good enough for another 1st place as well as ANOTHER High in Trial. So proud of my boy who is not yet 3 years old!
Feb 2019: Tickle got his RN title. He got a 197 and 1st place at Sacramento DTC, another 197 and 3rd place at Santa Clara DTC, and finished his title in Fresno with a 198 and 1st place.