Member Dogs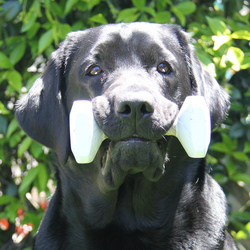 Call Name:

Steph

Registered Name:

Tuscany N Bouldinaire Shooting Star

Titles Earned:

BN
CD
CGC
CGCA
CGCU
RA
RE
RI
ThD
TKA
TKI
TKN

Breed:

Labrador Retriever

Gender:

Female

Owner:

Debbie Wanlin

Notes & Brags:

Jun 10, 2018: Steph earned her Rally Excellent Title at the Mt. Diablo DTC Rally Trial on June 10.
May 2018: Steph got her 1st (score 92) and 2nd (score 92, 4th place) Rally Excellent legs at the Klamath Dog Fanciers trial.
Apr 2018: Steph finished her Rally Advanced title at the Pug Specialty on April 20th with a score of 88, finishing in 4th place.
Mar 2018: Steph qualified in Rally four times at the Vintage Dog Show Cluster. On Thursday, she finished her Rally Intermediate title with a score of 96 and first place. On Friday, she got an insurance Rally Intermediate leg with a score of 98, again for 1st place. On Saturday, she moved up to Rally Advanced and got her first leg with a score of 98 and 2nd place. On Sunday, she got her second Rally Advanced leg with a score of 96 and 4th place.
Jan 2018: Steph scored 90 and finished second in Rally Intermediate at the Santa Clara DTC Trial on September 20th. On September 21st, she scored 96 and finished first in Rally Intermediate at the San Mateo DTC Trial.
Nov 2017: Steph earned her CD title in Stockton.
Oct 2017: Steph got her first and second legs towards her CD at Del Valle, finishing 2nd and 4th place respectively.
May 2017: Steph earned her first point in conformation on May 21st at Coyote Hills KC. She was beautifully handled by Allen Garfinkle. She also earned her AKC Trick Dog Novice, Intermediate and Advanced titles and her Therapy Dog title (THD) from the AKC
Jan 2017: Steph turned 1 year old.
Aug 2016: Steph finished her Beginner Novice title in 3 days at the Mensona KC show. She got her 1st leg, finishing 1st with a score of 194 ˝ on her 8 month birthday. She got her 2nd leg with a 191 ˝ score and got her 3rd leg for her Beginner Novice title with a 177, finishing 3rd. At the Lab Specialty in Grass Valley, she got 189 ˝ for her 4th leg in Beginner Novice and placed in Conformation.
Jul 2016: Steph (Tuscany N Bouldinaire Shooting Star) earned her CGC title at the age of 6 months.
Jun 2016: Steph (Tuscany N Bouldinaire Shooting Star) won Best in Sweepstakes at the Golden Gate Labrador Retriever Club Match.
May 2016: Steph , Debbie's new black Labrador puppy, was introduced to the membership. She's named after Stephan Curry.