Member Dogs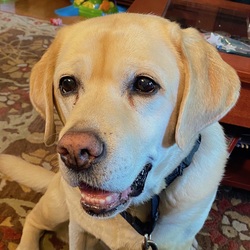 Call Name:

Posey

Registered Name:

Bouldinaire's Rookie of the Year

Titles Earned:

CDX
CGC
CGCA
CGCU
DJ
GO
RAE2
RM
RM2
RM3
ThDD
TKA
TKI
TKN
BN

(Nov 2012)

ThD

(Feb 2013)

RN

(Apr 2013)

CD

(Aug 2013)

RA

(Oct 2014)

RE

(Nov 2014)

RAE

(May 2015)

ThDX

(Sep 2015)

Breed:

Labrador Retriever

Gender:

Female

Birthday:

March 25, 2011

Owner:

Debbie Wanlin

Notes & Brags:

Jul 2020: Posey has been invited to the AKC Rally National Championship at the Championship level.
Nov 2019: Posey got her 20th Triple Q in Rally in Stockton.
Oct 2019: Posey earned her Rally Master 3 Title and Triple High Combined at the Vallejo DTC Trial.
Aug 2019: Posey earned the following Rally titles in July and August:

Del Monte DTC Trial: Earned her Rally Master 2 title and 8th Rally Triple Q (Scores: Master - 98, Excellent B - 98, and Advanced B 99)
Truckee Meadow DC Trial in Reno: Earned her RAE 2 Title and her 9th Rally Triple Q (Scores: Master - 88, Excellent B - 94, and Advanced B 94)
Monterey Bay DTC Trial: Earned her 10th Rally Triple Q (Scores: Master - 94, Excellent B - 97, and Advanced B 84)
Mensona: Earned her 11th, 12th and 13th Rally Triple Q

Jun 2019: Posey got the High Triple in Rally at the Deep Peninsula trial, defeating the #1 Rally dog in the country. Posey's scores were 95 in Masters (1st place), 89 in Excellent, and 99 in Advanced (3rd placed).
Nov 2018: Posey completed one day at the Stockton Trials and got a Triple Q in Rally and a placement.
May 2018: Posey got her 9th (score 95, 1st place) and 10th (score 89, 4th place) Rally Master legs at the Klamath Dog Fanciers trial to complete her title. At the Oakland DTC trial, she got an insurance leg with a score of 84 and 4th place.
Apr 2018: Posey got her 6th Rally Masters leg at the Pug Specialty on April 20th with a score of 95, and 2nd place. At the Chief Solano KC Trial on April 22nd, she got her 7th Rally Masters leg with a score of 96 and 2nd place. And on April 29th at the Mt. Diablo Trial, she got her 8th Rally Masters leg, finishing in 1st place with a score of 98.
Mar 2018: Posey qualified in Rally Masters three times at the Vintage Dog Show Cluster. On Thursday, she got a score of 85, on Friday and Saturday, she got a scores of 96, placing 3rd both days. She now has 5 Rally Master legs.
Jan 2018: Posey scored 94 and finished second in Rally Masters at the Santa Clara DTC Trial on September 20th. On September 21st, she scored 84 and finished first in Rally Masters at the San Mateo DTC Trial.
Jun 2017: Posey earned her DJ on June 5th for Dock Diving. DJ stands for "Diving Junior" and is recognized b y both the National American Diving Dogs and AKC.
May 2017: Posey earned her AKC Trick Dog Novice, Intermediate and Advanced titles.
May 2016: Posey earned her AKC Therapy Dog Distinguished Title (THDD) for having over 400 visits.
Sep 2015: Posey finished her Graduate Open title! On September 12, Saturday Posey scored a 183, finished 2nd, earned her second leg in Graduate Open at the Lake County Dog Show in Vallejo. On September 13, Sunday, Posey scored a 187, finished 2nd, earned her third leg and Title in Graduate Open any the Lake Drake County Dog Show in Vallejo.
Sep 2015: Posey earned her THDX, which stands for Therapy Dog Excellent. The excellent title is earned when a dog has over 200 visits.
Jul 2015: Posey finished first in Graduate Open with a score of 186 at the Truckee Meadow Dog Show in Reno, earning her first leg.
May 2015: Posey got her RAE title! On May 9 at the Santa Clara Valley Kennel Cub Trial she scored 88 in Rally Excellent and 98 Rally Advanced. She finished in 4th place in both Excellent and Advanced for her 8th Leg. On May 17 at the Oakland Dog Training Club Trial she scored 91 in Rally Excellent B and 96 in Rally Advanced B for her 9th leg. On May 28 at the Butte County Dog Training Club Show she scored 86 in Rally Excellent and 91 in Rally Advanced for her 10th leg, earning her her RAE Title.
Apr 2015: Posey got two RAE legs at the Northern California Terrier Show at Cal Expo and one RAE leg at the Chief Solano KC show (with a 4th place in Excellent and Advanced). She now has 7 legs towards her RAE title.
Mar 2015: Posey got her 3rd and 4th RAE legs on March 19th and March 21st at the San Mateo Kennel Club shows in Vallejo. She finished 2nd in Rally Excellent both days.
Feb 2015: Posey got an RAE leg at the Santa Clara Valley Kennel Club Show. Brag submitted by Mary.
Jan 2015: Posey got her 1st RAE leg at the San Mateo DTC Trial at the Santa Clara County Fairgrounds.
Nov 2014: Posey finished her Rally Excellent title in Petaluma with a score of 99 and 1st place.
Oct 2014: Posey finished her Rally Advanced title at the Golden Gate Lab Specialty. She immediately moved up to Rally Excellent and got her first two RE legs at Del Valle (with a 3rd place on the second leg).
Sep 28, 2014: Posey got her first leg in Rally Advanced at the San Lorenzo Dog Training Club Trial and her second leg at the Fremont Dog Training Club Trial.
Sep 2014: Posey got 2 CDX legs in Grass Valley to finish her CDX title.
Mar 2014: Posey got her 1st leg in Open at the Vintage Cluster.
Aug 2013: Posey finished her CD title at the Mensona KC show, getting her 2nd, 3rd and 4th leg over the course of 3 days. Her highest score was 196.5 (for second place). Big thanks to Mary Bayley for her help!
Apr 2013: Posey got two first places in Rally Novice with scores of 96 at the Chief Solano Kennel Club Show, completing her Rally Novice title.
Nov 2012: Posey got the 3rd and final leg of her Beginner Novice title at the San Joaquin show, with a score of 196.
Sep 30, 2012: Posey got her first leg towards her Beginner Novice title with a 194 at the San Lorenzo DTC Trial. The next day at the Fremont Trial, she got second place in Beginner Novice with a score of 195.
Jul 2012: Posey is a Therapy Dog for the Valley Humane Society.
Aug 2011: Posey won the "cute as is" contest at the Pleasanton Pooch Parade.