Member Dogs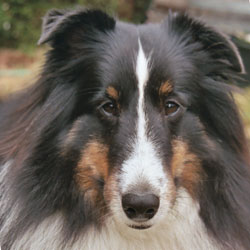 Call Name:

Coulter

Registered Name:

Valley View The Mountain Man

Titles Earned:

CGC

(Nov 7, 2002)

CD

(Aug 15, 2004)

RN

(Nov 6, 2005)

RA

(Mar 24, 2007)

NJP

(Sep 8, 2007)

NAP

(Sep 9, 2007)

RE

(Oct 21, 2007)

NAJ

(Nov 18, 2007)

NA

(Jan 20, 2008)

NF

(Jun 7, 2008)

OAJ

(Aug 9, 2008)

OA

(Sep 13, 2008)

OAP

(Mar 21, 2009)

OJP

(Jun 6, 2009)

NFP

(Jul 17, 2009)

AXP

(Jul 19, 2009)

OFP

(Oct 25, 2010)

Breed:

Shetland Sheepdog

Gender:

Male

Birthday:

February 1, 2000

Owner:

Rebecca Logsdon

Notes & Brags:

Jan 2018: Coulter turned 18 on February 1st. For his age, he looks terrific and is in excellent health. We celebrated his birthday at the meeting with cupcakes.
Feb 2017: Coulter turned 17 on February 1st. He looks incredible for his age and is in excellent health.
Feb 2016: Coulter celebrated his 16th birthday at the monthly meeting! He brought homemade treats to share with his fellow canine club members. For 16, he looks fantastic and is in excellent health.
Feb 2015: Coulter turned 15 on February 1st. He looks great and is as active as ever. He brought in some turkey treats to share with his friends at SLDTC.
Dec 2014: Coulter and Dash are proud to announce that their owner was voted Member of the Year by the Shetland Sheepdog Club of Northern California.
Feb 2014: Coulter turned 14 on February 1st. He looks fabulous and, other than being hard of hearing, he is in terrific shape.
Feb 1, 2013: Coulter turned 13 on February 1st. He is in fantastic shape for his age (although he is a bit hard of hearing) and he still does agility.
Mar 31, 2012: Coulter got his third RAE leg at the Sacramento Valley Shetland Sheepdog Club Specialty in Dixon, March 31st.
Coulter is a big success story. He was initially trained to be a show dog, but a traumatic experience ended his conformation career as soon as it began. It has taken a lot of time and patience to re-build his confidence. Training at SLDTC has helped! Since taking his first obedience class in 2001, Coulter has titled in obedience and rally. He also trains in (and loves!) freestyle obedience. However, agility is his true passion. In July 2007, I finally started to compete with Coulter in agility. He has succeeded beyond my wildest dreams! What makes me especially happy, however, is that he is finally starting to show the world the sweet, silly, happy and fun-loving boy that I know at home. Interesting tidbit: Coulter's littermate Britney is an AKC champion and notable brood-bitch who, to date, has produced 5 champions.